Hosting can be stressful, but don't let that ruin the egg-
citement 
of Easter.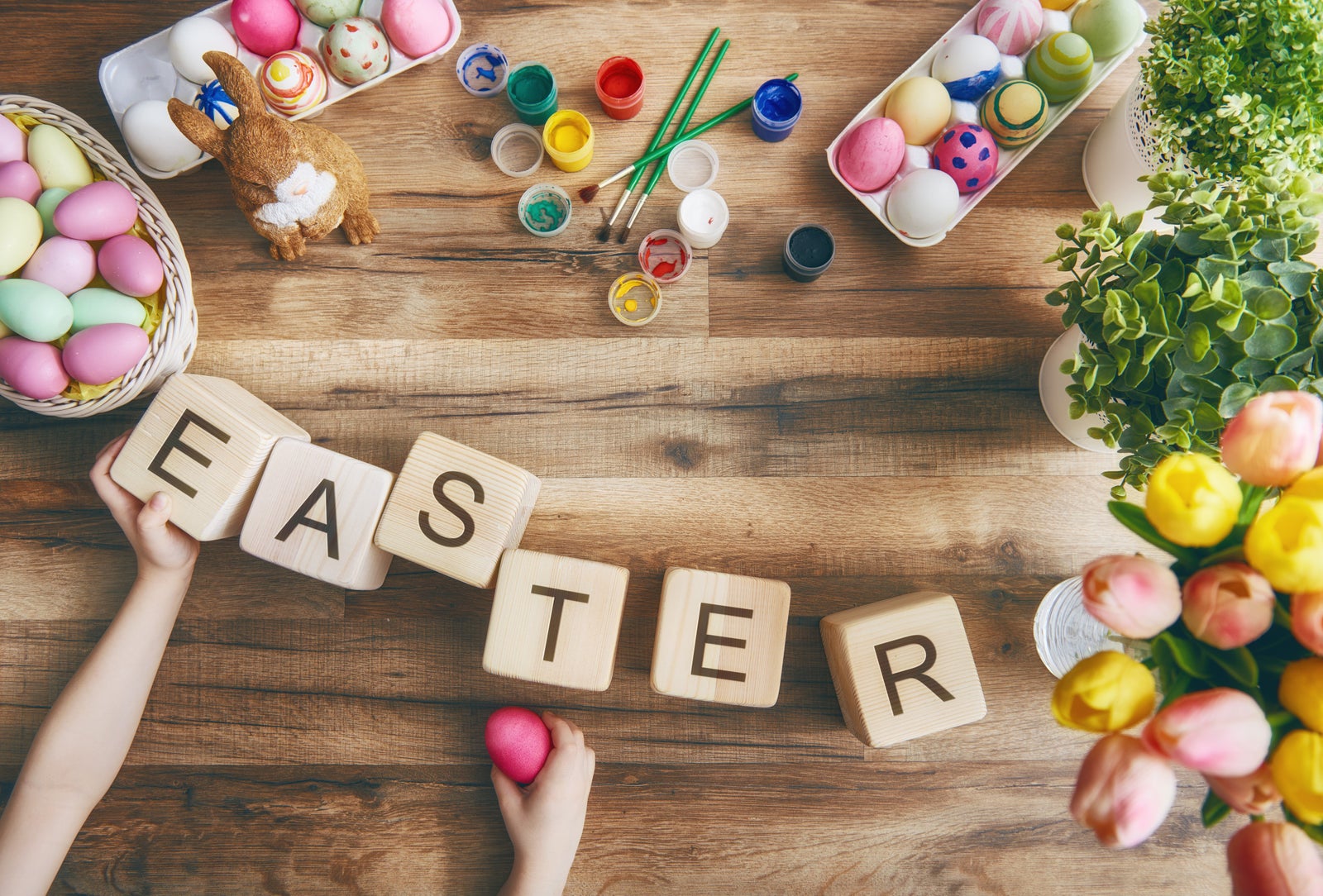 I've
hunted down

some tips, tricks, & treats to help you & your family this Easter! Whether you're looking to host or attend, you'll find something useful to bring to the table this season. 



Candy-Free Easter Treats
If you're hosting Easter with kids then this step could take A LOT of stress off your plate. As much as our children are conditioned to receiving chocolate & candy from Sir. E. Bunny, don't let that stop you from mixing things up! I've listed off 3 goodies that can be a great replacement to candy, and still be just as fun & affordable.
Because as yummy of a holiday Easter can be, sugar highs are no joke in the parent world
.  
A ball, bubbles, or a new set of waterproof paints can be the perfect alternative. With the weather warming up your kids can enjoy getting messy with some paints in the yard while you work away on your Holiday Dinner!
I used this idea for gifts on Christmas and it was a hit! Instead of buying toys for kids in the family I made them Time Coupons. The whole purpose is to spend time together doing something the other person would love. Whether that may be a day at the beach or a trip to the movie theatre, this is an awesome alternative to sugary treats and something your kids will be itching to cash in! Not to mention it can be really inexpensive and quick to put together. 
Board or video games are always fun! What better time to introduce a new game then when you have everyone together. Let the family spend the afternoon guessing, gaming, and laughing while you prep for that delicious meal to come!
Prep Your Side Dishes
This tip is perfect for soups or sides that need marinating times or taste better after soaking in its flavor. Making these dishes a night (or two) beforehand will free you up to be more present and keep you out of the kitchen. 
My significant other is an amazing cook and introduced me to these...since then I can never get enough of them!
She preps the veggies, mixes them in with the marinade and places them in a ziplock overnight. The next day they are quick to pop on a pan and place in the toaster oven 20 minutes before dinner. 
For the soup, she likes to make it a day or two beforehand. Let it cool before placing it in the fridge. The next day she re-heats it on the stove and the flavor is more rich and prominent than when it was fresh! This is also an awesome starter dish as it can be quite filling & is quick to heat up while you're doing your finishing touches on dinner. 
Potluck
If all else fails or you feel it's too much, don't be afraid to wave your white flag. So you don't want to ask your mother-in-law for her expertise, you can at least ask for help! There's no shame in calling a potluck for side dishes. This will make dinner prep a breeze! As long as you know how to cook the ham...
Make A Signature Cocktail
There's nothing better than showing up to dinner and being served a fruity cocktail to kick off the spring season! Take the time to invest in an out-of-the-box drink idea, kind of like an Easter basket for adults. I've linked a few awesome recipes below that'll be sure to WOW your guests!
Be Present With Your Guests
Go. With. The. Flow! Hosting a holiday will not always go as planned and sometimes that's the fun of it! Focus more on the company rather than the agenda. If you've got a Peep-sicle in your hand and family in your home, then you have something to be grateful for this holiday season.